Our Collective Capacity to Mobilize Love: A Discussion with Terry Tempest Williams and Eli Nixon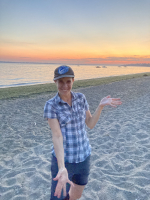 Join us for a discussion with author Terry Tempest Williams and Eli Nixon, author and illustrator of BLOODTIDE- A New Holiday in Homage To Horseshoe Crabs
Wednesday, September 27th. From 6-7:30 pm MST/ 8-9:30 EST
Free Registration, open until 4 pm MST/ 6 pm EST on 9/27/23, the day of our conversation.
Everyone is welcome!
Meeting on Zoom. (You will receive the link via email one hour before.)
About Terry Tempest Williams:
Terry Tempest Williams is a writer who speaks out eloquently on behalf of an ethical stance toward life. A naturalist and fierce advocate for freedom of speech, she has consistently shown us how environmental issues are matters of justice. Her environmental literature classic, Refuge: An Unnatural History of Family and Place, has introduced untold numbers of readers to the vibrant bird life and ecology of Great Salt Lake. She is currently the writer-in-residence at Harvard Divinity School. In her recent opinion piece for the New York Times, I'm Haunted by What I Have Seen at Great Salt Lake, Terry proclaims the lake's personhood and expresses her faith in our "collective capacity to mobilize our love" on her behalf.
About Eli Nixon:
Eli Nixon builds portals and gives guided tours to places that don't yet exist. They are a settler-descended transqueer clown, a cardboard constructionist, and a maker of drawings, puppets, pageants, parades, suitcase theaters, and low-tech public spectaculah. Eli collaborates with activists, schools, mental health and recovery centers, libraries and the more-than-human world to expand imaginative capacity and build muscles for collective liberation. They're a Rhode Islander living on Narragansett land.
Eli is a parent of a teen, an organizer with Showing Up for Racial Justice-RI, and a member of Direct Action for Rights and Equality, The Public's Devised Theater Working Group, The New Georges Jam, and brotherdykes unlimited. Eli and 300 Modern Humans (ages 0.3-83) recently "finished" a 450-million-year timeline of flora and fauna (mostly out of recyclables) in 9 months of asynchronous but collaborative organism building workshops. Now Eli is basking in intertidal naturedrag, flotilla scheming and amatuer flag dancing/ engaging in the legislative season...

About the book:
"Bloodtide gifts us a river to wander down where we can drift away from the bullshit... a holiday that rewilds us towards a life-affirming way of being in the world. And more than a holiday, Bloodtide extends us a glitch to enter that predates the trauma of all that clouds our imaginations." - brontë velez, Creative Director, Lead to Life

"It's hard to write about Eli Nixon's book because it's a book about fumbling into embodied relation and words are just a jump-off to living. It's about what you can do in a weekend with geologic time. It's a tender score for beautifully imperfect -- and transformative -- work... in the form of a series of proposals, invitations, and field notes... There is a crinkly poetry to Bloodtide, repurposed poetry, the poetry of wild rebirth snatched from the recycling bin. Words I thought I knew cast shadows that turn them into other beings entirely. Humble is an important word in this book, and so is impossible, and so is cardboard. ..It's a box full of wild objects, and the wild space between them. It's might-y -- might like "could be" not like brute force. It expands, has expanded me. I gasped a few times and my nose twitches with the smell -- the "rutty musk of the freer beasts within us." It is radical, it is wise, it is alive." -Agnes Borinsky, writer & theater-maker, author of Brief Chronicle, Books 6-8 and Sasha Masha
Event Information
| | |
| --- | --- |
| Event Date | 09-27-2023 6:00 pm |
| Event End Date | 09-27-2023 7:30 pm |
| Individual Price | Free with Registration |